What is Botanical Sexism? Tom Ogren, horticulturist and allergy researcher, has done extensive research on ways to reduce pollen counts and pollen potency. His theory centers around the unbalanced planting of male vs female plants. This unbalance can impact pollen counts and the resulting escalation of pollen allergies. He wrote and published an article in Scientific American, coining "botanical sexism" to explain his theory. Ogren believes a better mix or "gender balance" of male and female trees, especially in urban settings, would lower pollen counts.
Ogren's article focuses on the foundation set in the 1949 USDA Yearbook of Agriculture which reads, "When used for street plantings, only male trees should be selected, to avoid the nuisance from the cottony seed." This idea comes from the fact that male trees produce pollen, and female trees receive that pollen and produce fruit and seeds. It was recommended to plants primarily or all male tress to avoid messy sidewalks and parks from the flowering female trees that would drop their seeds and fruits.
Tree System Selection
Is botanical sexism a natural selection? Trees have four primary sexual systems: cosexual, monoecious, dioecious and polygamous. A tree that produces single flowers with combined fully functional male and female parts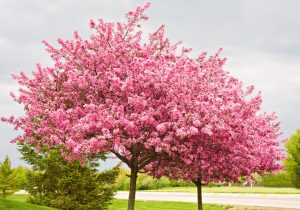 is called cosexual. Monoecious trees similarly have both male and female parts within the same tree, however they separate the male and female parts into different flowers or cones on the same tree. Dioecious trees separate male and female parts on completely different trees where one tree is strictly female and one strictly male. These trees were Ogren's primary focus. And for completeness we will define polygamous trees as the most complex and as cosexual, with male and female flowers on the same tree but also with separate male and female parts in different combinations on completely different trees.
Ogren's work focuses on dioecious males planted independently of dioecious females. This is often the case in urban areas due to the cleanliness concern described above. When this occurs however, their pollen is unchecked by any capture by female flowers and causing copious amount of pollen to be distributed in the air to cause coughing, sneezing, and respiratory issues. Tree pollen is one of the greatest offenders of not only allergic rhinitis, but also allergic conjunctivitis and allergic asthma as well.
Pollen Count Impact
Botanical sexism referenced higher pollen counts due to failed tree "gender balance",  and is further exacerbated by higher pollen potency. Studies have shown that air pollution (which tends to be higher in urban settings) attaches to pollen grains and causes the powdery substance to shatter into still tinier pieces. "When that happens the inside of the pollen grain is exposed and that's 10 times more allergenic than the outside," explained Ogren. This is again exacerbated by increasing CO2 levels which causes plants to bloom at a faster rate and at a higher content which means even higher pollen counts where predominantly male trees reside.
Purpose of Defining Botanical Sexism
Prime allergy season is usually defined as mid-March to early June in most of the United States. Frequency of allergic rhinitis (AR) diagnosis increase greatly during this season. AR affects more than 400 million people worldwide, and is expected to rise by another 100 million by 2025. Ogren collected extensive data, and by 2000 was able to develop a scale called OPALS (Ogren Plant Allergy Scale) that ranks more than 3,000 plants from 1 to 10 based on how allergenic they are. This was the first numerical ranking system in existence for plant allergies and is used to develop allergy rankings in large US cities.
Ogren's work is meant to encourage city planners, plant distributors, and homeowners to think carefully about their plant choices. He feels we all are all responsible for the rising numbers of allergy sufferers, and we, by making the correct plant choices, can at least reduce the amount of allergenic pollen in the air. Examples of plants that are allergy-friendly include pansies, impatiens and snapdragons.
Amanda Hofmann, MPAS, PA-C, is a graduate of Duquesne University, in Pittsburgh, PA. After spending 8 years in clinical practice, she joined United Allergy Services where she is currently the Vice President of Clinical. Amanda is also the past president of the Association of PAs in Allergy, Asthma, and Immunology. 
United Allergy Services is also on Facebook, LinkedIn, or Twitter. See other interesting and related articles on the UAS Blog.