As the final days of summer break come to a close, families everywhere are preparing for children to return to school. Whether this is the first year a child is heading to school or the last, it is an exciting time for both children and parents. It can, however, also be a time of anxiety for a parent worried about a child's asthma or allergy conditions. Below are some ways to prepare and communicate these concerns, and  back to school excitement.
Make a Plan
Schedule an appointment with your child's healthcare provider in the weeks leading up to the first day of school. During this appointment, discuss overall heath as well as specifics regarding allergies, food allergies, or asthma. This is also a great opportunity to request that the healthcare provider refill any asthma or allergy medications. The provider can complete medication permission forms required by the school nurse during your visit. It is important the school nurse can quickly and easily confirm the medication you provide is:
non-expired
prescribed for your child
has clear directions on when, how, and how much to take
This is also the time to request your provider complete any additional forms required by the school. Examples are asthma action plans, anaphylaxis action plans, and food allergy alert plans with avoidance and substitution information. If your child is in their first year or is entering a new school, it is important to contact the school nurse directly. Also, if your child has complex requirements or action plans, you should visit with the school nurse yearly about their daily requirements. The nurse can discuss accommodation options available for children at the school. Other important policies to discuss include asthma inhalers, epinephrine auto injectors, classroom parties, field trips, and cafeteria rules.
Classroom Action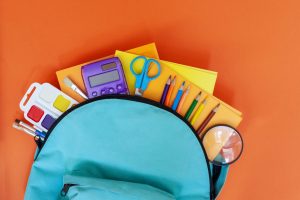 The classroom can be a source of exposure for children with allergies to dust mites, mold, and animal dander. Communicate with your child's teacher about allergy triggers for their symptoms and what common symptoms to look out for. Don't forget to ask if the classroom will have a resident pet. If so, what type of animal and any requirements that the pet come home with your child may be important. It is also important to understand if the school has air conditioning or if windows are typically opened on nicer days. If windows must be opened, then you can prepare your child accordingly with additional symptom control medication.
During your initial meeting with the teacher, you can begin setting appropriate expectations. Discuss things such as asthma action plans and any potential limitations for recess or physical education. Also, anaphylaxis action plans for food or stinging insects and any food avoidance requirements should be covered. You will feel confident knowing both the school nurse and teacher are fully informed of your child's needs. The school nurse and teacher should have a consistent plan for where inhalers and epinephrine auto injectors are stored. Also confirm that there is a plan for administration of medication in a time of need. It is a good idea to ask about substitutes or classroom aides/parent volunteers confirm they are made aware of your child's needs.
When to Stay Home
During a regular year it is often a challenge to decide when it is or is not appropriate to send a child to school with cold-like symptoms. That can be even more complex for a parent if your child has allergies or asthma. In this unique time when COVID-19 is still a major focus, another layer of complexity is added.
For children with asthma, it is safe to attend school with mild wheezing that occurs infrequently and is quickly resolving with the use of albuterol. However, it is appropriate to keep your child home from school if:
they experience difficulty sleeping due to respiratory symptoms
require albuterol every 4 hours to relieve them of things like wheezing, shortness of breath, or chest tightness
have respiratory symptoms that are failing to resolve with albuterol use
Make sure to always inform the school nurse and the child's teacher of any recent asthma exacerbations and how it was treated. Communicate any continued treatment if applicable.
If your child has an allergic reaction, make sure to inform the nurse. Also update the nurse on the allergen trigger if known, how the reaction was treated, and any ongoing treatment.
Wishing all the children a safe, healthy, and prosperous new school year!
_________________________________________________________________________________________________________________________________________________________________________________________________________________________________
Amanda Hofmann, MPAS, PA-C, is a graduate of Duquesne University, in Pittsburgh, PA. After spending 8 years in clinical practice, she joined United Allergy Services where she is currently the Vice President of Clinical. Amanda is also the past president of the Association of PAs in Allergy, Asthma, and Immunology. 
United Allergy Services is also on Facebook, LinkedIn, or Twitter. See other interesting and related articles on the UAS Blog.