As we move into the summer months, it is important to understand the connection between allergies, asthma, and air quality. While air pollution does not directly cause allergy or asthma, it can increase the risk of developing atopic disease. Air pollution can also trigger allergy or asthma symptoms or an asthma attack for persons with existing conditions. Air pollution usually increases during summer months. This pollution leads to an increase in related symptoms, urgent office visits, and emergency room visits.
Air Quality Components
Allergy and asthma symptoms can be triggered by two key air pollutants, ozone (found in smog) and particle pollution (found in haze, smoke, and dust).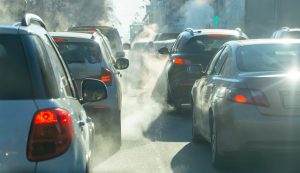 Ozone, a gas, is one of the most common air pollutants, contributes to smog, and is more common in cities where there are a lot of cars. In the summer months ozone can increase when intense sunlight and heat convert a mixture of tailpipe and power plant emissions with other chemicals resulting in unhealthy air. Allergy and asthma symptoms may trigger more easily because ozone is irritating to the lungs and can reduce lung function.
Particle pollution is present and stable throughout the year but is typically worse near busy roads, during rush hour and around factories. It is also high when there is smoke in the air from wood stoves, fireplaces, or burning vegetation. These small particles can irritate the nose, throat, and especially the lungs, and also reduce lung function and cause asthma exacerbations.
Air Quality Reports
The United States Environmental Protection Agency (EPA) reports air pollution levels using the Air Quality Index (AQI). AQI reports the level of ozone and other air pollutants. When the AQI is 101 or higher, it is dangerous for people with allergies and especially asthma. Sometimes asthmatics can experience increased symptoms even when ozone levels are moderate (AQI 51-100). Many local news stations and weather forecasters report local air quality to advise the public about moderate or high pollution days.
Another resource, The American Lung Association has just released their annual State of the Air report. One interesting finding in the report is, "The addition of 2020 data to the 2022 "State of the Air" report gives a first look at air quality trends during the COVID-19 pandemic. Regardless of the shutdowns in early 2020, there was no obvious improvement."
Combatting Air Quality Conditions
When air quality may be dangerous to people with allergies or especially asthma, they are deemed as "Action Days". During Action Days, people with asthma should limit their time outdoors, especially in the afternoon or rush hour periods, stay in a well-ventilated, preferably air-conditioned, building, and most of all, do not intensely exercise outdoors. Also try to keep windows closed in your home and car, and instead utilize the air conditioning on the recycled setting.
There is also a risk that you could have poor indoor air quality within your home. Irritants can exacerbate allergy and asthma symptoms. These and allergy and asthma triggers are common items such as:
household cleaners
hair products
perfumes
air freshening sprays or plug ins
scented candles/diffusers
smoke produced from

tobacco
fireplaces
candles
cooking
wood burning stoves
Not smoking or permitting smoking in the home is one of the easiest ways to protect the home from indoor air pollution. Finally, be mindful of high humidity and mold growth. These two factors can greatly impact indoor air quality. Installing exhaust fans in kitchens, bathrooms, and laundry rooms can help lower humidity. The use of a dehumidifier helps significantly as well.
Amanda Hofmann, MPAS, PA-C, is a graduate of Duquesne University, in Pittsburgh, PA. After spending 8 years in clinical practice, she joined United Allergy Services where she is currently the Vice President of Clinical. Amanda is also the past president of the Association of PAs in Allergy, Asthma, and Immunology. 
United Allergy Services is also on Facebook, LinkedIn, or Twitter. See other interesting and related articles on the UAS Blog.